Advertising & Consulting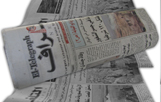 Reach Your Target
Australia has become one of the most multicultural countries in the world.  Overseas born make up 22% of
Australia's total population, with more than half-born in non-English speaking countries.  By placing advertisements in English only publications, advertisers are effectively missing a large segment of the population to whom English is not a first language.  That is where our news paper can play a major role in targeting your message across.
A special survey carried out recently, by the Commonwealth Department of Immigration and Ethnic Affairs, showed that 92% of the Arabic-speaking people rely on the El-Telegraph for important issues circulating here and overseas.
Also the survey showed that we carry more advertising than our competitors and that the El-Telegraph is the only newspaper in our community that carries substantial coverage of Australian and overseas news as well as community interests. This was important to our advertisers, as they know it is effectively reaching the majority of Arabic speaking homes.
El-Telegraph is made up of several sections including:
- Australian/Arabic international news
- Sports, Health, Education, Social Issues
- Entertainment, Product Awareness, General Information
- Classified section, Real Estate, Employment
- Miscellaneous Advertisement etc…